The 1.075 Express is an ammo type in
Lost Silence
. It operates like a rocket, having a two stage projection device, by one, firing the interior powder(Inside the shell), and two the small amount of fuel inside the bullet itself.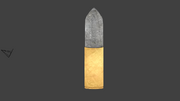 The bullet comes in four variations:
HEDP: High Explosive Dual Purpose, good for clearing out areas, still ok for vehicles.
HEAP: High Explosive Armor Piercing, very good for taking out vehicles, not so much for people.
VHE: Very High Explosive, also called 'Reaper' rounds, they are comprised of a XEP(Xyntar Phosphide Ethlymide) interior, and a RDX-2(Cyclotrimethylenetrinitramine) molding. They do not have as much powder, minimizing the chance of the projectile exploding in the barrel.
FHE: Fragmentation High Explosive, explodes, then sends hundereds of shards of metal in all directions.
Ad blocker interference detected!
Wikia is a free-to-use site that makes money from advertising. We have a modified experience for viewers using ad blockers

Wikia is not accessible if you've made further modifications. Remove the custom ad blocker rule(s) and the page will load as expected.