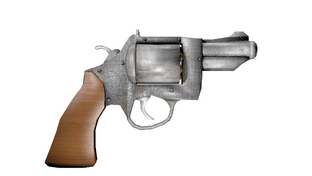 The Smith Original is a handgun found in Lost Silence. It was manufactured by Smith Weapons Inc. before the breakout.
Specific Details
Edit
The Original is a revolver chambered in .44 Magnum. It has a pre-threaded barrel to accept a Suppressor, Though that is the only mod for it.
The Original is based off of the Smith & Wesson Model 29 revolver with a snub and threaded barrel.
Ad blocker interference detected!
Wikia is a free-to-use site that makes money from advertising. We have a modified experience for viewers using ad blockers

Wikia is not accessible if you've made further modifications. Remove the custom ad blocker rule(s) and the page will load as expected.